PassionFilz | textil-link
In October 2013 the book »Pas­si­onFilz« by tex­til-link will be released. PassionFilz is a similar project to the published book »Fil­zen ist für mich…« (engl: Felting for me is …)
In PassionFilz felt creations are displayed from German-speaking felt makers. The book has the format of 21x21cm.
All 93 authors display their great creations on a double page, together with a portrait about themselves, contact information, and a short description of their passion for felt.
You can find objects, wallhangings, clothes, interior design, figures and much more in the book. A book full of surprises, that represents the german-speaking standard of felt art.
PassionFelt is a cooperation of Ellen Bakker (textil-link) and Ricarda Aßmann (Author or the book FilzFrauen).
For more information visit the website of textil-link: Here.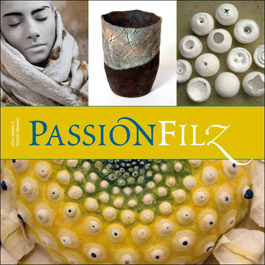 Ellen Bakker, Ricarda Aßmann (Hrsg.)
»PassionFilz«
21x21cm · 192 Pages
With more then 750 Images · 27,50€
Available in: German, English and Dutch
Expected release date: October 2013