Review
»Aborigine Inspired Surfaces«
For 3 days we got in touch with the world of the Aborigines at Big Cat Textiles in Newburgh, Scotland. Big Cat Textiles is owned by the Scottish-German textile artist Jeanette Sendler. Since its official launch in March 2012, national and international master classes have taken place at the centre, providing another meeting place for feltmakers around the globe, this time in Scotland.
The workshop started with looking into the background of Aborigine paintings: the symbols, the story, the mystic and their techniques. The content of the workshop focused on the well-known »Dot Painting«-technique. Dotpaintings have touched me particularly because even though they are painted with colors they look like textile art. With this technique the Aborigines tell e.g. their genesis, present bird`s eye view of landscapes and many more. The 12 participants of the workshop started with making many dots to get a feeling of their point of view and the world they live in. They tried to paint the path from their front door to the next corner of the street including the surroundings only with dots. The participants could not stop to think and talk about the Aborigines and their point of view, not even during lunch break. The participants exchanged stories and experiences about foreign cultures.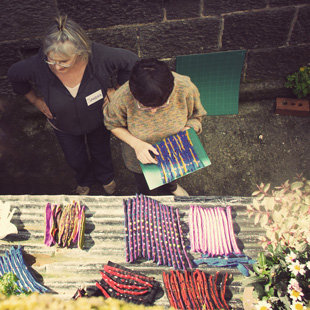 Participants of the Workshop
The participants were really happy as they started felt making. The technique itself is not really spectacular or difficult. The essential point is to felt cords that are embedded into felt. The texture of the felt was important and it was very difficult to imagine the final creation during the process of the making. One had to think outside the box, because the embedded cords were cut into slices afterwords and pieced together in a different way. Some of the participants did not even try to picture how the final object would look like, they liked to be surprised in the end. None of the participants was disappointed by their results, every object had its very own touch of individuality. Some of the artists were surprised how tiring this technique could be. They had to invest power and strength to felt all the layers.
Even though it was hard work the participants decided to dive into experimenting with the technique. I got a lot of inspirations that I would like to follow further.
Andrea Noeske Porada
Website Big Cat Textiles · E-Mail schreiben